NOTICE
Holiday Schedule
| | |
| --- | --- |
| May. 28, 2018 | AAA Anime Inc. will be CLOSED on Monday in observance of Memorial Day. |
Costume: Animals - Raccoon Hooded Dress and Kit (Set of 4) (S/M) (Apparel)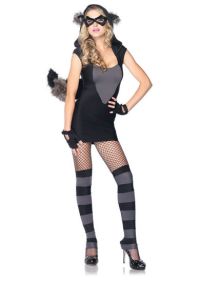 Manufacturer: Leg Avenue
Item Code: LA83881S
S.R.P.: $64.99
Request this item from your local retailer!

Note: Set will include the hooded dress, eye mask, fingerless gloves, and leg warmers. For hooded dress with a bendable tail, please pin it towards the top of the tail so it will not pull the dress too much.
Tracks