NOTICE
Holiday Schedule
| | |
| --- | --- |
| July 4, 2018 | AAA Anime Inc. will be CLOSED on Wednesday in observance of Independence Day. |
Is It Wrong to Try to Pick Up Girls in a Dungeon? Sword Oratoria Novel Vol. 1 (Books)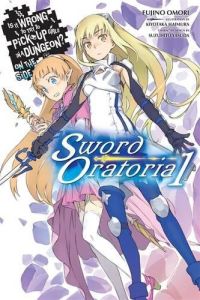 Manufacturer: Yen Press
Item Code: 0316315338
UPC: 9780316315333
Author: Fujino Omori
S.R.P.: $14.00
Request this item from your local retailer!

A spin-off of one of Yen On's breakout bestsellers--Is It Wrong to Try to Pick Up Girls in a Dungeon?--covering the journey of Aiz Wallenstein, the strongest member of Loki Familia!

Aiz Wallenstein, the Sword Princess, is known as one of the most powerful warriors from one of the most powerful groups in the city of Orario: Loki Familia. With them, she ventures into the deepest parts of the labyrinthine Dungeon beneath the city, stalking the monstrous denizens that lurk there and vanquishing them with the blazing light of her sword. But when she meets a certain white-haired boy, the encounter will change both of them forever...