NOTICE
Convention Schedule
| | |
| --- | --- |
| July 18-22, 2018 | AAA Anime Inc. will be attending the international San Diego Comic Con Booth# 4319. |
Irregular at Magic High School Novel Vol. 3 (Books)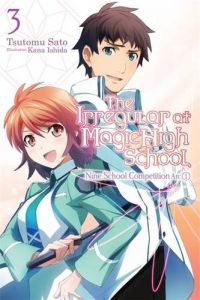 Manufacturer: Yen Press
Item Code: 0316390305
UPC: 9780316390309
Author: Tsutomu Satou
S.R.P.: $14.00
Request this item from your local retailer!

High school drama and high-powered action in a world where magic is the new science! One of last season's most popular anime franchises!

The Nine School Battle. Ever year in mid-July, students from magic high schools all over the country gather to participate in fierce competitions of magical skill. Miyuki Shiba is among the members of the team First High will send to the battle. The magical skill of the competitors will be a huge factor, but there's another one-the tuning of their CADs. Luckily, they've got someone with them who specializes in the field-Miyuki's older brother Tatsuya. But when the Nine School Battle is targeted by a sinister group, all the talent in the world may not be enough to secure victory...