Yowamushi Pedal Vol. 5 (Manga) (Books)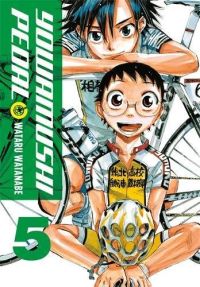 Manufacturer: Yen Press
Item Code: 0316393673
UPC: 9780316393676
Author: Wataru Watanabe
S.R.P.: $24.00
Request this item from your local retailer!

Team Sohoku races their hearts out in the name of guts and glory in the inspiring original manga series behind the cycling anime smash hit, Yowamushi Pedal!

The nation's fiercest competitors gather at Hakone in a flurry of rampaging muscle for the inter-high!

Throwing Japan's strongest high school cyclists together, the inter-high tournament begins with a clash of hearts and bodies ready for battle! Passions run high and old rivalries reignite--Kinjou and Fukutomi, Imaizumi and Midousuji...and Sakamichi and Sangaku!! And when the action-packed sprinting stage of the competition gets underway, Naruko and Tadokoro have their own war to wage as they lose ground on Hakone Academy's "Sprinting Machine," Izumida!! With the title of "Fastest Rider" on the line, who will come out on top?!