Psycome Novel Vol. 5: Murder Machine and the Catastrophic Athletic Festival (Books)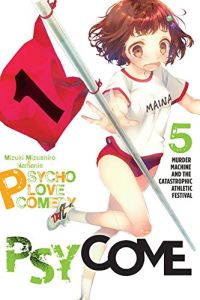 Manufacturer: Yen Press
Item Code: 0316398322
UPC: 9780316398329
Author: Kugane Maruyama
S.R.P.: $14.00
Request this item from your local retailer!

Even cutthroat murderers have school athletics festivals! Aiming for the top place in the school's first murderathon, Kyousuke and his classmates suffer through backbreaking conditioning. His life gets even more complicated when Renko's mother, Reiko Hikawa, pays a visit. She gives the pair an ultimatum: if their class doesn't win the athletics festival, Kyousuke and Renko can't get married! Can he sort out his ambiguous feelings for Renko while surviving the upperclassmen's bloodlust?