Watamote Vol. 11 (Manga) (No Matter How I Look at It, It's You Guys' Fault I'm Not Popular!) (Books)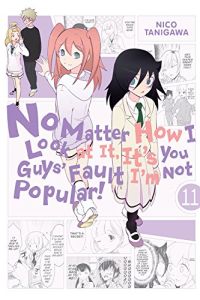 Manufacturer: Yen Press
Item Code: 0316414123
UPC: 9780316414128
Author: Nico Tanigawa
S.R.P.: $13.00
Request this item from your local retailer!

In this surprise, runaway bestseller, a high school first-year realizes that her dreams of popularity may be out of reach--and it can't be her own fault, can it?!
Other products for "No Matter How I Look at It, It's You Guys' Fault I'm Not Popular! (WataMote)" in "Books"

Watamote Vol. 1 (Manga) (No Matter How I Look at It, It's You Guys' Fault I'm Not Popular!)

Watamote Vol. 2 (Manga) (No Matter How I Look at It, It's You Guys' Fault I'm Not Popular!)

Watamote Vol. 3 (Manga) (No Matter How I Look at It, It's You Guys' Fault I'm Not Popular!)

Watamote Vol. 4 (Manga) (No Matter How I Look at It, It's You Guys' Fault I'm Not Popular!)

Watamote Vol. 5 (Manga) (No Matter How I Look at It, It's You Guys' Fault I'm Not Popular!)

Watamote Vol. 6 (Manga) (No Matter How I Look at It, It's You Guys' Fault I'm Not Popular!)

Watamote Vol. 7 (Manga) (No Matter How I Look at It, It's You Guys' Fault I'm Not Popular!)

Watamote Vol. 8 (Manga) (No Matter How I Look at It, It's You Guys' Fault I'm Not Popular!)

Watamote Vol. 9 (Manga) (No Matter How I Look at It, It's You Guys' Fault I'm Not Popular!)

Watamote Vol. 10 (Manga) (No Matter How I Look at It, It's You Guys' Fault I'm Not Popular!)