NOTICE
Holiday Schedule
| | |
| --- | --- |
| Nov. 22, 2018 | AAA Anime Inc. will be CLOSED on Thursday in observance of Thanksgiving. |
| Dec. 24, 2018 | AAA Anime Inc. will be CLOSED on Monday for Christmas Eve. |
| Dec. 25, 2018 | AAA Anime Inc. will be CLOSED on Tuesday in observance of Christmas. |
| Jan. 1, 2019 | AAA Anime Inc. will be CLOSED on Tuesday in observance of New Years Day. |
| Dec. 31, 2018 | AAA Anime Inc. will be open for a half day. No outbound shipments are scheduled that day. |
| UPS Holiday Schedule Notes | UPS Guarantee is suspended for all UPS Ground shipments picked up or scheduled for delivery Nov. 26–Dec. 24. |
Aoharu X Machinegun Vol. 7 (Manga) (Books)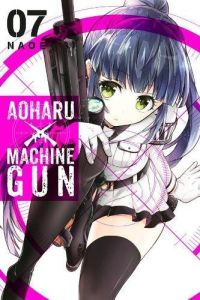 Manufacturer: Yen Press
Item Code: 0316435708
UPC: 9780316435703
Author: Naoe
S.R.P.: $13.00
Request this item from your local retailer!

Haruki's spirit is broken once again after his battle with his brother, Haruka. Will Tachibana's offer of assistance reach him in the end? And bewildered Haruka's choice is...

The summer training camp looms ever closer. The members of Toy Gun Gun are trying to overcome their weaknesses in preparation for the next TGC, but even that will bring a tumultuous turn of events...!!