NOTICE
Holiday Schedule
| | |
| --- | --- |
| July 4, 2018 | AAA Anime Inc. will be CLOSED on Wednesday in observance of Independence Day. |
Love at Fourteen Vol. 6 (Manga) (Books)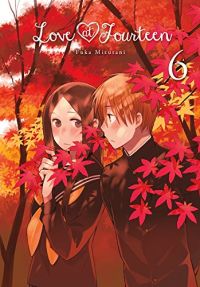 Manufacturer: Yen Press
Item Code: 0316469289
UPC: 9780316469289
S.R.P.: $15.00
Request this item from your local retailer!

As Class 2-B makes landfall in Kyoto, everyone's talking about who's going to confess to whom. This prompts Kanata to realize that despite their developing romance, Kazuki's never actually told her how he feels about her. There's love in the air, but for Kanata and Kazuki, will this momentous confession--if it ever comes-just be too little, too late?