NOTICE
Holiday Schedule
| | |
| --- | --- |
| Nov. 22, 2018 | AAA Anime Inc. will be CLOSED on Thursday in observance of Thanksgiving. |
| Dec. 24, 2018 | AAA Anime Inc. will be CLOSED on Monday for Christmas Eve. |
| Dec. 25, 2018 | AAA Anime Inc. will be CLOSED on Tuesday in observance of Christmas. |
| Jan. 1, 2019 | AAA Anime Inc. will be CLOSED on Tuesday in observance of New Years Day. |
| Dec. 31, 2018 | AAA Anime Inc. will be open for a half day. No outbound shipments are scheduled that day. |
| UPS Holiday Schedule Notes | UPS Guarantee is suspended for all UPS Ground shipments picked up or scheduled for delivery Nov. 26–Dec. 24. |
RE:Zero Chapter 2 Vol. 3: A Week at the Mansion (Manga) (Starting Life in Another World) (Books)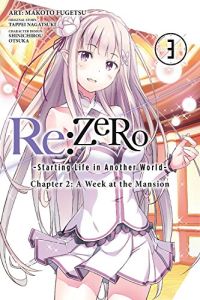 Manufacturer: Yen Press
Item Code: 0316473162
UPC: 9780316473163
Author: Tappei Nagatsuki
S.R.P.: $13.00
Request this item from your local retailer!

Thanks to his "Return by Death" ability and a little help from Beatrice, Subaru gets to the morning of the fifth day alive. However, an unexpected tragedy occurs! Can Subaru save the residents of the mansion, or is he doomed to re-live his pain once again?