Of the Red, the Light, and the Ayakashi Vol. 9 (Manga) (Books)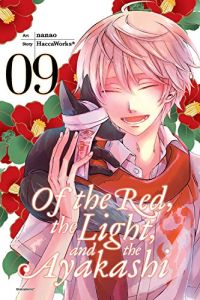 Manufacturer: Yen Press
Item Code: 0316474487
UPC: 9780316474481
Author: HaccaWorks
S.R.P.: $13.00
Request this item from your local retailer!

The world of ayakashi--spirits and creatures from Japanese folklore--comes to life in this modern dark fantasy manga adaptation of the hit otome visual novel from HaccaWorks*!
Other products for "Of the Red, the Light, and the Ayakashi" in "Books"

Of the Red, the Light, and the Ayakashi Vol. 1 (Manga)

Of the Red, the Light, and the Ayakashi Vol. 2 (Manga)

Of the Red, the Light, and the Ayakashi Vol. 3 (Manga)

Of the Red, the Light, and the Ayakashi Vol. 4 (Manga)

Of the Red, the Light, and the Ayakashi Vol. 5 (Manga)

Of the Red, the Light, and the Ayakashi Vol. 6 (Manga)

Of the Red, the Light, and the Ayakashi Vol. 7 (Manga)

Of the Red, the Light, and the Ayakashi Vol. 8 (Manga)

Of the Red, the Light, and the Ayakashi Vol. 10 (Manga) [Street Date: 3/20/2018]