NOTICE
Holiday Schedule
| | |
| --- | --- |
| May. 28, 2018 | AAA Anime Inc. will be CLOSED on Monday in observance of Memorial Day. |
Death March to the Parallel World Rhapsody Novel Vol. 1 (Books)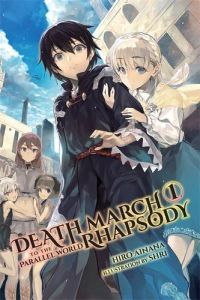 Manufacturer: Yen Press
Item Code: 0316504637
UPC: 9780316504638
Author: Hiro Ainana
S.R.P.: $14.00
Request this item from your local retailer!

Suzuki used to work late nights making games, but now he's inside a game--and suddenly high level?!

Programmer Ichirou Suzuki is transported to another world. In a foreign land, he finds that life is an adventure that's sometimes fun, sometimes serious, and full of girls!