Konosuba Vol. 2 (Manga) (Books)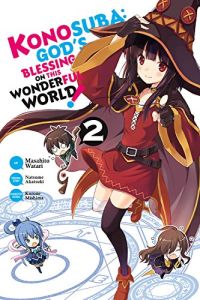 Manufacturer: Yen Press
Item Code: 0316553328
UPC: 9780316553322
Author: Natsume Akatsuki
S.R.P.: $13.00
Request this item from your local retailer!

After being transported to another world, Kazuma is joined by his allies Aqua the goddess, Megumin the magician, and Darkness the crusader. As they conduct more missions to fulfill quests, like purifying a lake while fending off monstrous alligators, they also progress as adventurers, receiving rewards from successful outings and skilling up. But one fateful day, one of the Demon King's terrifying dullahan generals approaches their sleepy beginner city. And somehow, Megumin gets his attention straight away, or should we say, earns his wrath... What are they going to do?!