Bungo Stray Dogs Vol. 1 (Manga) (Books)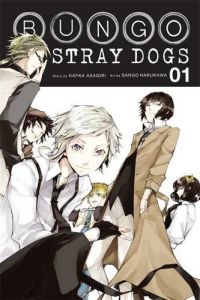 Manufacturer: Yen Press
Item Code: 0316554707
UPC: 9780316554701
Author: Kafka Asagiri
S.R.P.: $13.00
Request this item from your local retailer!

Last season's breakout new hit airing on Crunchyroll! A battle-heavy action series powered by the works of literary giants unfolds on the stage of Yokohama's backstreets!

Having been kicked out of the orphanage, a despairing young man by the name of Atsushi Nakajima rescues a strange man from a suicide attempt--Osamu Dazai. Turns out that Dazai is part of an armed-detective agency staffed by individuals whose supernatural powers take on a literary bent!