NOTICE
Holiday Schedule
| | |
| --- | --- |
| Nov. 22, 2018 | AAA Anime Inc. will be CLOSED on Thursday in observance of Thanksgiving. |
| Dec. 24, 2018 | AAA Anime Inc. will be CLOSED on Monday for Christmas Eve. |
| Dec. 25, 2018 | AAA Anime Inc. will be CLOSED on Tuesday in observance of Christmas. |
| Jan. 1, 2019 | AAA Anime Inc. will be CLOSED on Tuesday in observance of New Years Day. |
| Dec. 31, 2018 | AAA Anime Inc. will be open for a half day. No outbound shipments are scheduled that day. |
| UPS Holiday Schedule Notes | UPS Guarantee is suspended for all UPS Ground shipments picked up or scheduled for delivery Nov. 26–Dec. 24. |
RE:Zero Chapter 3 Vol. 1: Truth of Zero (Manga) (Starting Life in Another World) (Books)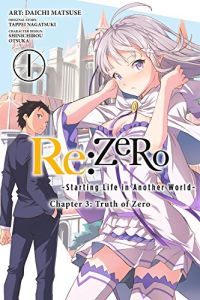 Restocked!: 12/14/2018
Manufacturer: Yen Press
Item Code: 0316559466
UPC: 9780316559461
Author: Tappei Nagatsuki
S.R.P.: $13.00
Request this item from your local retailer!

Subaru returns with Emilia to the capital of Lugunica, where it all started for him. There, he runs into some (unfortunately) familiar faces...but also the other candidates for Queen of Lugunica!