Gundam SEED Destiny Vol. 3 (Manga) (Books)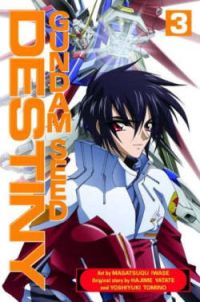 Manufacturer: Del Rey
Item Code: 0345492765
UPC: 9780345492760
Author: Masatsugu Iwase
S.R.P.: $10.95
Request this item from your local retailer!

Shinn Asuka is the ZAFT Empire's ace pilot. And it's not just his elite combat skills that make him such a fearsome soldier. He has a burning hatred for the Earth Alliance, the Empire's enemy in a long and terrible war. But then Shinn meets someone who makes him question everything he believes.
Stella Loussier is beautiful and innocent - and a pilot for the Earth Alliance. She also might be the victim of a horrifying military research experiment, one that shocks even the battle-hardened Shinn. Now Shinn is determined to give her a new life, away from war, destruction, and death. But as Shinn risks his life to return Stellar to her friends at the Alliance, he may be headed for heartbreak.
Tracks