SpiderMan: Brand New Day Vol. 3 (Trade Paperback) (Books)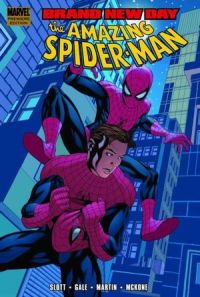 Manufacturer: Marvel
Item Code: 0785132155
UPC: 9780785132158
S.R.P.: $19.99
Request this item from your local retailer!

The Daily Bugle, New York's trashiest tabloid, has just hired the sleaziest, most muckraking, lowlife paparazzi of them all... PETER PARKER?! Say it ain't so, True Believer! Also, J. Jonah Jameson finds inner peace and harmony...(Hey, it could happen! Maybe.) All this and the first-ever livestreaming super-villain: Screwball! Plus: It's web-slinger vs. wall-crawler as we answer the question - who is "The Other Spider-Man?" It ain't comin' down to another clone saga, is it? Collects Amazing Spider-Man #559-564.
Tracks