Tower of the Future Vol. 3 (Manga) (Books)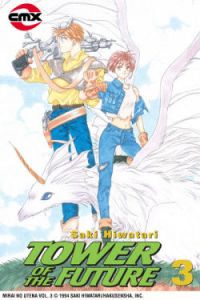 Manufacturer: CMX
Item Code: 1401208169
UPC: 9781401208165
Author: Hiwatari Saki
S.R.P.: $9.99
Request this item from your local retailer!

Get hooked on this hypnotic series from the legendary creator of Please Save My Earth! Takeru Matsuyuki always longed for his life to be more like his beloved fantasy role-playing games. But when fantasy becomes reality, every choice you make affects the outcome. Takeru has finally confessed his love to Ichigo. And although she likes what she hears, she still has feelings for her old boyfriend...who happens to be dating Takeru's old girlfriend Miyabi. But could Miyabi be using him just to make Takeru jealous? Any one of their next moves could lead to heartbreak.
Tracks