Doubt!! Vol. 5 (Manga) (Books)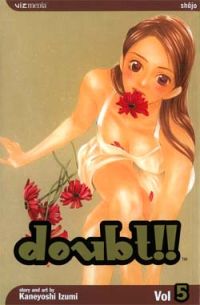 Manufacturer: Viz
Item Code: 1421500558
UPC: 9781421500553
Author: Kaneyoshi Izumi
S.R.P.: $9.99
Request this item from your local retailer!

During a trip to her boyfriend S?'s beach house, Ai learns that his parents are pushing him to break up with Ai and date Sakurako, a girl they've chosen because of her family connections. Already uncomfortable in S?'s lofty world of wealth and politics, Ai becomes even more self-conscious with the emergence of a new rival, and when S? transfers to Sakurako's school, she fears that her nightmare may be coming true. Could he really have caved to his parents' demands? And will Ai's anxiety over losing her beau-along with the rampant peer pressure among the students-force her to "go all the way" before she's ready?

DOUBT!! ? 2000 Kaneyoshi IZUMI/Shogakukan, Inc.
Tracks