//
Yu-Gi-Oh! Duelist Vol. 11 (Manga) (Books)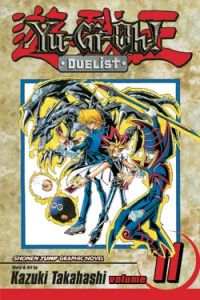 Manufacturer: Viz
Item Code: 1421501503
UPC: 9781421501505
Author: Kazuki Takahashi
S.R.P.: $9.99
Request this item from your local retailer!

Mai Kujaku! Dinosaur Ryuzaki! Esper Roba! The world's greatest duelists are in town for the Battle City tournament...but a mysterious group is stalking the tournament to steal the most valuable cards! The Rare Hunters are more than thieves...they're pawns of the mysterious Marik, a deadly duelist from Egypt who already possesses two of the three most powerful cards in the world. And to defeat them, Yugi must find a way to beat Exodia, the world's most unbeatable combo!
YU-GI-OH! © 1996 by Kazuki Takahashi/SHEUISHA Inc.
Other products for "Yu-Gi-Oh!" in "Books"

Yu-Gi-Oh! 5D's Vol. 1 (Manga)

Yu-Gi-Oh! 5D's Vol. 4 (Manga)

Yu-Gi-Oh! 5D's Vol. 6 (Manga)

Yu-Gi-Oh! 5D's Vol. 7 (Manga)

Yu-Gi-Oh! 5D's Vol. 8 (Manga)

Yu-Gi-Oh! 5D's Vol. 9 (Manga)

Yu-Gi-Oh! Arc-V Vol. 2 w/ Clearwing Fast Dragon TCG Card (Manga)

Yu-Gi-Oh! Arc-V Vol. 3 w/ TCG Card (Manga)

Yu-Gi-Oh! Arc-V Vol. 6 w/ TCG Card (Manga) [Street Date: 9/3/2019]

Yu-Gi-Oh! GX Vol. 2 (Manga)

Yu-Gi-Oh! GX Vol. 3 (Manga)

Yu-Gi-Oh! GX Vol. 5 (Manga)

Yu-Gi-Oh! GX Vol. 6 (Manga)

Yu-Gi-Oh! GX Vol. 7 (Manga)

Yu-Gi-Oh! GX Vol. 8 (Manga)

Yu-Gi-Oh! Millennium World, Vol. 6 (Manga)

Yu-Gi-Oh! Omnibus Vol. 1 (Vol. 1,2,3) (Manga) (3-in-1 Edition) [Restocked!: 7/2/2019]

Yu-Gi-Oh! Omnibus Vol. 2 (Vol. 4,5,6) (Manga) (3-in-1 Edition)

Yu-Gi-Oh! Omnibus Vol. 3 (Vol. 7,8,9) (Manga) (3-in-1 Edition)

Yu-Gi-Oh! Omnibus Vol. 4 (Vol. 10,11,12) (Manga) (3-in-1 Edition)

Yu-Gi-Oh! Omnibus Vol. 5 (Vol. 13,14,15) (Manga) (3-in-1 Edition)

Yu-Gi-Oh! Omnibus Vol. 6 (Vol. 16,17,18) (Manga) (3-in-1 Edition)

Yu-Gi-Oh! Omnibus Vol. 7 (Vol. 19,20,21) (Manga) (3-in-1 Edition)

Yu-Gi-Oh! Omnibus Vol. 8 (Vol. 22,23,24) (Manga) (3-in-1 Edition)

Yu-Gi-Oh! Omnibus Vol. 9 (Vol. 25,26,27) (Manga) (3-in-1 Edition)

Yu-Gi-Oh! Omnibus Vol. 10 (Vol. 28,29,30) (Manga) (3-in-1 Edition)

Yu-Gi-Oh! Omnibus Vol. 11 (Vol. 31, 32, 33) (Manga) (3-in-1 Edition)

Yu-Gi-Oh! Omnibus Vol. 12 (Vol. 34, 35, 36) (Manga) (3-in-1 Edition)

Yu-Gi-Oh! Omnibus Vol. 13 (Vol. 37, 38, 39) (Manga) (3-in-1 Edition)

Yu-Gi-Oh! R Vol. 3 (Manga)

Yu-Gi-Oh! R Vol. 4 (Manga)

Yu-Gi-Oh! Zexal Vol. 3 (Manga)

Yu-Gi-Oh! Zexal Vol. 4 (Manga)

Yu-Gi-Oh! Zexal Vol. 5 (Manga)

Yu-Gi-Oh! Zexal Vol. 6 w/ Number 52: Diamond Crab King TCG Card (Manga)