NOTICE
Holiday Schedule
| | |
| --- | --- |
| July 4, 2018 | AAA Anime Inc. will be CLOSED on Wednesday in observance of Independence Day. |
Fushigi Yugi Vol. 17: Demon (Manga) (Books)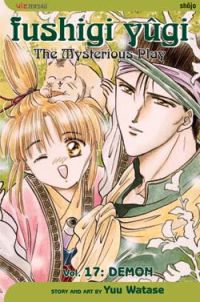 Manufacturer: Viz
Item Code: 1421501805
UPC: 9781421501802
Author: Yu Watase
S.R.P.: $9.95
Request this item from your local retailer!

An enormous explosion rocks Taka's apartment complex while Taka is inside, and as fire engulfs the building, an image of the demon god Tenk? appears in the flames! Could Taka have been injured in the blast, or, worse, have fallen into Tenk?'s clutches? When Tenk? steals the four stones that Miaka has already collected, is all hope lost for the return of Taka's memories? And will Tenk?'s manipulation of Taka and Miaka's friends slowly drive wedges between them and ensure their defeat?

FUSHIGI YUGI © 1992 Yuu WATASE/Shogakukan, Inc.
Tracks