BoBoBo-Bo Bo-BoBo Vol. 1 (Manga) (Books)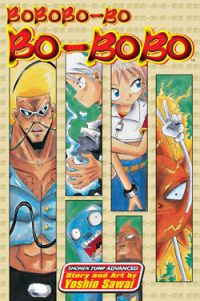 Manufacturer: Viz
Item Code: 1421502720
UPC: 9781421502724
Author: Yoshio Sawai
S.R.P.: $9.99
Request this item from your local retailer!

Yoshio Sawai pushes the bounds of satire and the medium of manga itself with BoBoBo-Bo Bo-BoBo. Irreverent, silly and unpredictable Bo-BoBo is pure comic genius.
In the year 300X, a cruel dictator has mandated the hunting of all hair in the Maruhage Empire. But a single man rises to the occasion and takes a stand against this violation of human hair rights. Bo-BoBo, master of Fist of the Nose Hair, uses the prehensile hairs of his shnoz to most lethal ends. Follow the nonsensical adventures of Bo-BoBo and his sentient sidekick snacks as they lead their hilarious rebellion against the Empire.

BOBOBO-BO-BO-BOBO © 2001 by Yoshio Sawai / SHUEISHA Inc.
Tracks