Fushigi Yugi: Genbu Kaiden Vol. 3 (Manga) (Books)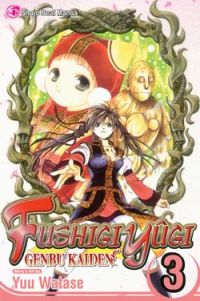 Manufacturer: Viz
Item Code: 1421502887
UPC: 9781421502885
Author: Y? Watase
S.R.P.: $8.99
Request this item from your local retailer!

This exciting prequel to VIZ's best-selling fantasy series FUSHIGI YUGI tells the story of the very first of the priestesses of "The Four Gods"-the Priestess of Genbu!
As referred to in Volume 12 of FUSHIGI YUGI, Takiko Okuda was the first of the priestesses to enter "The Universe of the Four Gods." With this latest work from the pen of best-selling artist Yu Watase (ALICE 19TH), Takiko's full story is told.

Fushigi Yugi: Genbu Kaiden © 2004 Yuu Watase / Shogakukan Inc.
Tracks