Ouran High School Host Club Vol. 5 (Manga) (Books)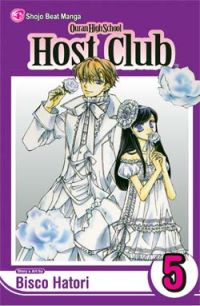 Manufacturer: Viz
Item Code: 1421503298
UPC: 9781421503295
Author: Bisco Hatori
S.R.P.: $9.99
Request this item from your local retailer!

Haruhi's top ranking falls and she is in jeopardy of losing her scholarship at Ouran. Each member of the Host Club scrambles to become her tutor, but Haruhi picks a female student, Ayame, to help her. Haruhi's time is now spent with Ayame, who can't stand Tamaki. Can Tamaki charm his way into Ayame's good graces so the Host Club can spend time with their favorite member?

Ouran Koko Host Club © Bisco Hatori 2001/HAKUSENSHA, Inc.