NOTICE
Convention Schedule
| | |
| --- | --- |
| July 18-22, 2018 | AAA Anime Inc. will be attending the international San Diego Comic Con Booth# 4319. |
Beauty is the Beast Vol. 5 (Manga) (Books)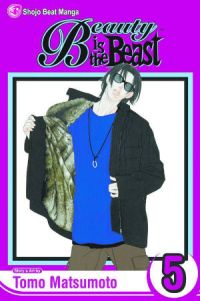 Manufacturer: Viz
Item Code: 1421503557
UPC: 9781421503554
Genre: N/A
Author: Matsumoto, Tomo
S.R.P.: $8.99
Request this item from your local retailer!

Eimi's going home for the holidays, but she's only been to her parents' new house once! Shimonuki is all set to accompany her, but a family emergency keeps him in town. Eimi doesn't want to take the train alone, so she drags Wanibuchi with her. They spend the holidays traveling across the country and through Wanibuchi's past. Will his revelations bring them together or ruin any chance of a happy ending?

Bijo ga Yaju © Tomo Matsumoto 2002/HAKUSENSHA, INC.
Tracks