NOTICE
AAA Server Maintenance
| | |
| --- | --- |
| Mar 1st, 2019 | AAAanime.com will be performing maintenance and upgrades to our server and codes and the websites and functions may be periodically down for these upcoming weeks. |
Baby and Me Vol. 2 (Manga) (Books)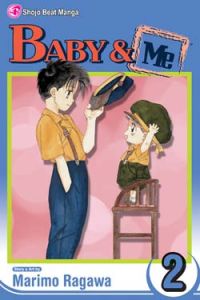 Manufacturer: Viz
Item Code: 1421505738
UPC: 9781421505732
Genre: N/A
Author: Ragawa, Mirimo
S.R.P.: $8.99
Request this item from your local retailer!

Takuya's life isn't limited to taking care of Minoru. He's got some problems of his own, like encounters with schoolyard bullies, a girl with a big crush on him, and the jealous classmate who has a crush on her. He weathers these challenges pretty well, but once they pose any kind of threat to Minoru...watch out!
Minoru also has a new admirer, and a bitter rivalry develops between her and his previous suitor, Hiro. How much will little Minoru put up with?
Tracks