Fushigi Yugi: Genbu Kaiden Vol. 4 (Manga) (Books)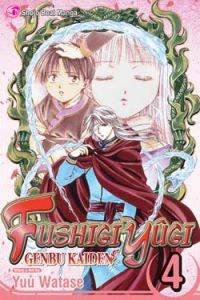 Manufacturer: Viz
Item Code: 1421505797
UPC: 9781421505794
Genre: N/A
Author: Watase, Yuu
S.R.P.: $8.99
Request this item from your local retailer!

Takiko now knows where to find the remaining Celestial Warriors, but, with spies around every corner and the army of Qu-Dong on her trail, she may not survive the journey. When Tomite accidentally lets slip that Takiko is the Priestess of Genbu, she's kidnapped by villagers in order to be sacrificed to a dragon! And in a confrontation with the Celestial Warrior Hikitsu, Hikitsu's power over water may be more than the other Celestial Warriors can handle...and those who gaze into his eyes see more truth than they can bear!

Fushigi Yugi: Genbu Kaiden © 2004 Yuu Watase / Shogakukan Inc.
Tracks