NOTICE
Holiday Schedule
| | |
| --- | --- |
| July 4, 2018 | AAA Anime Inc. will be CLOSED on Wednesday in observance of Independence Day. |
Fushigi Yugi: Genbu Kaiden Vol. 5 (Manga) (Books)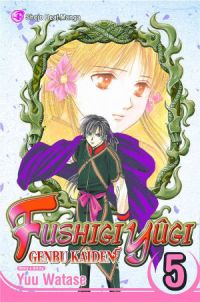 Manufacturer: Viz
Item Code: 1421505800
UPC: 9781421505800
Genre: N/A
Author: Watase, Yuu
S.R.P.: $8.99
Request this item from your local retailer!

In the midst of a heated battle, Takiko is transported back to her own world. There, all the problems she escaped through her father's book are waiting for her: her mother's funeral, her father's disapproval, and her reunion with Mr. Ohsugi, her first love. But with the wisdom and strength she's found as the Priestess of Genbu, Takiko knows what she has to do. And when she discovers that the wishes of the Priestess really do have power in her world, she realizes that she must find a way to return to the Universe of the Four Gods!

Fushigi Yugi: Genbu Kaiden © 2004 Yuu Watase / Shogakukan Inc.
Tracks