Ouran High School Host Club Vol. 6 (Manga) (Books)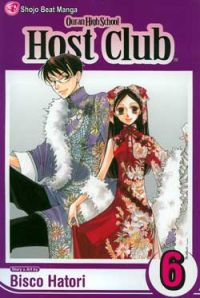 Manufacturer: Viz
Item Code: 1421505843
UPC: 9781421505848
Author: Bisco Hatori
S.R.P.: $9.99
Request this item from your local retailer!

In this screwball romantic comedy, Haruhi, a poor girl at a rich kid's school, is forced to repay an $80,000 debt by working for the school's swankiest, all-male club -- as a boy! There she discovers just how wealthy the six memebers are and how different the rich are from everybody else...

The school festival opens at Ouran, the Host Club members are busy entertaining the visiting parents. Teasing his son is a favorite pastime of Tamaki's doting father, the school chairman, but Tamaki's grandmother is cut from a very different cloth. She despises and shuns Tamaki, banning him from the main Suoh Mansion. It's now time for Kyoya to take action with the Host Club to help their favored leader out.
Ouran Koko Host Club © Bisco Hatori 2001/HAKUSENSHA, Inc.
Tracks