Buso Renkin Vol. 3 (Manga) (Books)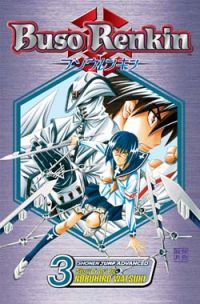 Manufacturer: Viz
Item Code: 1421506173
UPC: 9781421506173
Author: Nobuhiro Watsuki
S.R.P.: $7.99
Request this item from your local retailer!

Never underestimate the power of underwear! With no battle gear or armor to speak of besides his butterfly mask and skivvies, Papillon Mask survives a bitter duel against our boy Kazuki. Meanwhile, Papillon Mask's great-great-grandfather Dr. Butterfly promises him the true powers of a humanoid homunculus, which includes the ability to use a Buso Renkin. Will Kazuki and Tokiko be able to fend off their very powerful - and very eccentric - nemesis?
Tracks