Rurouni Kenshin Vol. 26 (Manga) (Books)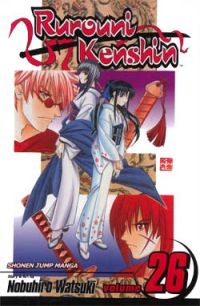 Manufacturer: Viz
Item Code: 1421506734
UPC: 9781421506739
Author: Nobuhiro Watsuki
S.R.P.: $7.95
Request this item from your local retailer!

If there's one thing tough-as-nails street brawler--and ex-Sekihô Army cadet--Sagara Sanosuke can't stand, it's hypocritical, loudmouthed braggarts who talk the talk but are incapable of walking the walk. Finding himself in the middle of a provincial squabble between an old man and the local yakuza, Sano returns to his old "fight merchant" ways and agrees to do some ad hoc butt kicking for pay. But the old man he's hired to tangle with might be his strongest foe to date.

RUROUNI KENSHIN © 1994 by Nobuhiro Watsuki/SHUEISHA Inc.
Tracks