NOTICE
Holiday Schedule
| | |
| --- | --- |
| May. 28, 2018 | AAA Anime Inc. will be CLOSED on Monday in observance of Memorial Day. |
Art Book: Hana-Kimi (Books)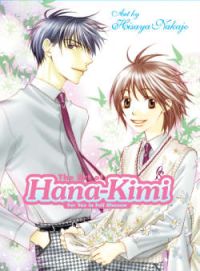 Manufacturer: Viz
Item Code: 1421507293
UPC: 9781421507293
Genre: N/A
Author: Nakajo, Hisaya
S.R.P.: $19.99
Request this item from your local retailer!

The Prettiest Boy In School...Isn't A Boy!
Japanese-American track-and-field star Mizuki has gotten herself to transfer to a high school in Japan...but not just any school! To be close to her idol, high jumper Izumi Sano, she's going to an all-guys' high school...and disguising herself as a boy! But as fate would have it, they're more than classmates...they're roommates! Now, Mizuki must keep her secret in the classroom, the locker room, and her own bedroom. And her classmates--and the school nurse--must cope with a new transfer student who may make them question their own orientation...

Hanazakari no Kimitachi he © Hisaya Nakajo 1999/HAKUSENSHA, Inc.
Tracks