NOTICE
Holiday Schedule
| | |
| --- | --- |
| July 4, 2018 | AAA Anime Inc. will be CLOSED on Wednesday in observance of Independence Day. |
Beet The Vandel Buster Vol. 10 (Manga) (Books)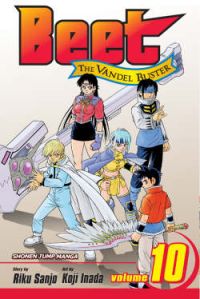 Manufacturer: Viz
Item Code: 1421507714
UPC: 9781421507712
Author: Riku Sanjo
S.R.P.: $7.99
Request this item from your local retailer!

The world's most powerful Vandels have agreed upon a terrible contest. The winner: the first Vandel to destroy Beet. The prize: control of the world! The scheming Garonewt is the first Vandel to take up the challenge, and he's devised a brilliant plot to crush Beet.

On Garonewt's monster-infested island fortress, Beet and his friends could meet their doom. Or they could join forces and form an unstoppable new Vandel-busting team... the Beet Warriors!

BOUKEN OH BEET-BEET THE VANDEL BUSTER © 2002 by Riku Sanjo, Koji Inada / SHUEISHA Inc.
Tracks