NOTICE
Holiday Schedule
| | |
| --- | --- |
| July 4, 2018 | AAA Anime Inc. will be CLOSED on Wednesday in observance of Independence Day. |
Boys Over Flowers Vol. 26 (Manga) (Books)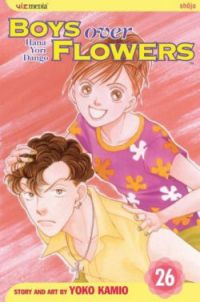 Manufacturer: Viz
Item Code: 142150989X
UPC: 9781421509891
Genre: N/A
Author: Kamio, Yoko
S.R.P.: $9.99
Request this item from your local retailer!

HANA-YORI DANGO ©1992 by Yoko Kamio/SHUEISHA Inc.

Tsukushi struggles to understand her feelings for Tsukasa, her on-and-off boyfriend, and he struggles to try and not destroy Tokyo. Will the man who came between them step aside? The meddlesome F4 try their hand at forcing Tsukushi and Tsukasa together. All the while Tsukasa's mother's spies are hot on their trail!
Tracks