Yu-Gi-Oh! Duelist Vol. 20 (Manga) (Books)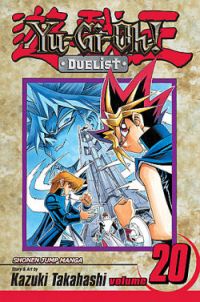 Manufacturer: Viz
Item Code: 1421511134
UPC: 9781421511139
Genre: N/A
Author: Takahashi, Kazuki
S.R.P.: $7.95
Request this item from your local retailer!

The quarterfinals are over, but not without casualties: Mai and Rishid lie in the infirmary, and if Marik isn't defeated in 24 hours, Mai will never wake up! As the airship speeds toward its mysterious destination, Bakura and Marik end their sinister alliance and fight a vicious duel over the Millennium Rod. But who is Bakura's unexpected ally?! Meanwhile, the four semifinalists get ready for what could be the last duels of their lives. And for Jonouchi, it's his last chance to save Mai from Marik's deadly power...

YU-GI-OH! © 1996 by Kazuki Takahashi/SHEUISHA Inc.
Tracks