NOTICE
Holiday Schedule
| | |
| --- | --- |
| July 4, 2018 | AAA Anime Inc. will be CLOSED on Wednesday in observance of Independence Day. |
Vampire Knight Vol. 2 (Manga) (Books)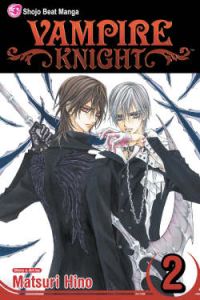 Manufacturer: Viz
Item Code: 1421511304
UPC: 9781421511306
Genre: Shojo
Author: Matsuri Hino
S.R.P.: $9.99
Request this item from your local retailer!

Vampire Knight © Matsuri Hino 2004/HAKUSENSHA, Inc.

Outside the safe boundary of the academy, Yuki is attacked by a vampire. Injured and unable to defend herself, two Night Class students come to her aid and kill the vampire. When Yuki asks them why they killed their own kind, they tell her to come to the Moon Dormitory at midnight to learn the answer...
Tracks