NOTICE
Holiday Schedule
| | |
| --- | --- |
| July 4, 2018 | AAA Anime Inc. will be CLOSED on Wednesday in observance of Independence Day. |
Beet The Vandel Buster Vol. 11 (Manga) (Books)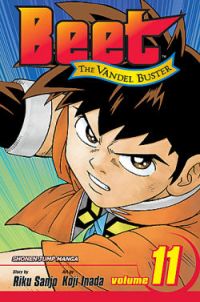 Manufacturer: Viz
Item Code: 1421511576
UPC: 9781421511573
Genre: Action
Author: Riku Sanjo
S.R.P.: $7.99
Request this item from your local retailer!

For the first time, the Beet Warriors are a real team. Now it's time for them to get their act together--and fast! Sir Baron, one of the world's most powerful Vandels, attacks while the team is separated, forcing Beet, Poala and Kissu to fight without their friends. Worse, the sight of Sir Baron sends Kissu into shock! Can Kissu get over his past as a servant of the Vandels and become a true Buster, or will his own inner demons destroy him?
Meanwhile, Cruss finally recovers from his amnesia. At last, the true fate of the Zenon Warriors is revealed!

BOUKEN OH BEET-BEET THE VANDEL BUSTER © 2002 by Riku Sanjo, Koji Inada / SHUEISHA Inc.
Tracks