NOTICE
May 27, 2019
AAA Anime Inc. will be CLOSED on Monder in observance of Memorial Day.
July 4, 2019
AAA Anime Inc. will be CLOSED on Thursday for Fourth of July.
Yu-Gi-Oh! Millennium World, Vol. 6 (Manga) (Books)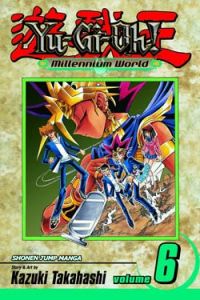 Manufacturer: Viz
Item Code: 1421513285
UPC: 9781421513287
Genre: N/A
Author: Takahashi, Kazuki
S.R.P.: $9.99
Request this item from your local retailer!

YU-GI-OH! © 1996 by Kazuki Takahashi/SHEUISHA Inc.

In the pharaoh's empty tomb, Yugi fights Bakura for the most powerful magic of all: Yu-Gi-Oh's forgotten Egyptian name! But can Yugi win a life-or-death match of Duel Monsters without his partner's help? Meanwhile, while massive earthquakes shake the World of Memories, the pharaoh and the forces of Egypt fight a last stand against the undead armies of Zorc Necrophades. It's the final battle between good and evil...as the world itself comes to an end!
Other products for "Yu-Gi-Oh!" in "Books"

Yu-Gi-Oh! 5D's Vol. 1 (Manga)

Yu-Gi-Oh! 5D's Vol. 2 (Manga)

Yu-Gi-Oh! 5D's Vol. 4 (Manga)

Yu-Gi-Oh! 5D's Vol. 6 (Manga)

Yu-Gi-Oh! 5D's Vol. 7 (Manga)

Yu-Gi-Oh! 5D's Vol. 8 (Manga)

Yu-Gi-Oh! 5D's Vol. 9 (Manga)

Yu-Gi-Oh! Arc-V Vol. 2 w/ Clearwing Fast Dragon TCG Card (Manga)

Yu-Gi-Oh! Arc-V Vol. 3 w/ TCG Card (Manga)

Yu-Gi-Oh! Duelist Vol. 11 (Manga)

Yu-Gi-Oh! GX Vol. 2 (Manga)

Yu-Gi-Oh! GX Vol. 3 (Manga)

Yu-Gi-Oh! GX Vol. 5 (Manga)

Yu-Gi-Oh! GX Vol. 6 (Manga)

Yu-Gi-Oh! GX Vol. 7 (Manga)

Yu-Gi-Oh! GX Vol. 8 (Manga)

Yu-Gi-Oh! Omnibus Vol. 1 (Vol. 1,2,3) (Manga) (3-in-1 Edition)

Yu-Gi-Oh! Omnibus Vol. 2 (Vol. 4,5,6) (Manga) (3-in-1 Edition)

Yu-Gi-Oh! Omnibus Vol. 3 (Vol. 7,8,9) (Manga) (3-in-1 Edition)

Yu-Gi-Oh! Omnibus Vol. 4 (Vol. 10,11,12) (Manga) (3-in-1 Edition)

Yu-Gi-Oh! Omnibus Vol. 5 (Vol. 13,14,15) (Manga) (3-in-1 Edition)

Yu-Gi-Oh! Omnibus Vol. 6 (Vol. 16,17,18) (Manga) (3-in-1 Edition)

Yu-Gi-Oh! Omnibus Vol. 7 (Vol. 19,20,21) (Manga) (3-in-1 Edition)

Yu-Gi-Oh! Omnibus Vol. 8 (Vol. 22,23,24) (Manga) (3-in-1 Edition)

Yu-Gi-Oh! Omnibus Vol. 9 (Vol. 25,26,27) (Manga) (3-in-1 Edition)

Yu-Gi-Oh! Omnibus Vol. 10 (Vol. 28,29,30) (Manga) (3-in-1 Edition)

Yu-Gi-Oh! Omnibus Vol. 11 (Vol. 31, 32, 33) (Manga) (3-in-1 Edition)

Yu-Gi-Oh! Omnibus Vol. 12 (Vol. 34, 35, 36) (Manga) (3-in-1 Edition)

Yu-Gi-Oh! Omnibus Vol. 13 (Vol. 37, 38, 39) (Manga) (3-in-1 Edition)

Yu-Gi-Oh! R Vol. 3 (Manga)

Yu-Gi-Oh! R Vol. 4 (Manga)

Yu-Gi-Oh! Zexal Vol. 3 (Manga)

Yu-Gi-Oh! Zexal Vol. 4 (Manga)

Yu-Gi-Oh! Zexal Vol. 5 (Manga)

Yu-Gi-Oh! Zexal Vol. 6 w/ Number 52: Diamond Crab King TCG Card (Manga)