NOTICE
Holiday Schedule
| | |
| --- | --- |
| Nov. 22, 2018 | AAA Anime Inc. will be CLOSED on Thursday in observance of Thanksgiving. |
| Dec. 24, 2018 | AAA Anime Inc. will be CLOSED on Monday for Christmas Eve. |
| Dec. 25, 2018 | AAA Anime Inc. will be CLOSED on Tuesday in observance of Christmas. |
| Jan. 1, 2019 | AAA Anime Inc. will be CLOSED on Tuesday in observance of New Years Day. |
| Dec. 31, 2018 | AAA Anime Inc. will be open for a half day. No outbound shipments are scheduled that day. |
| UPS Holiday Schedule Notes | UPS Guarantee is suspended for all UPS Ground shipments picked up or scheduled for delivery Nov. 26–Dec. 24. |
Rurouni Kenshin VizBig Vol. 2 (Manga) (Books)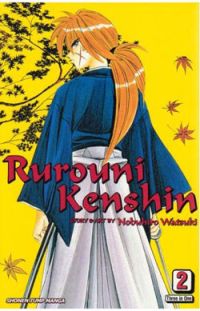 Manufacturer: Viz
Item Code: 1421520745
UPC: 9781421520742
S.R.P.: $19.99
Request this item from your local retailer!

Shinomori Aoshi was once the leader of Edo Castle's elite guard, the Oniwabansh?, but will the dawning of the modern age force him and his stalwart companions into the shadows of obscurity? Then a truly old-school swordsman whose goal is nothing less than a complete reformation of the state of kenjutsu in Meiji Era Japan comes calling for a challenge. Finally, Sanosuke is reunited with an old friend from his days with the doomed Sekih? Army.