Art Book: Ponyo on the Cliff by the Sea (Books)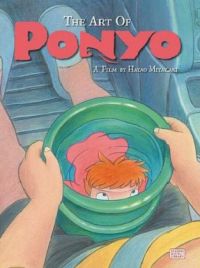 Manufacturer: Viz
Item Code: 1421530643
UPC: 9781421530642
Author: Hayao Miyazaki
S.R.P.: $34.99
Request this item from your local retailer!

Relive the story of Ponyo and Sosuke in this full-color movie art book!

From the animators of Howl's Moving Castle, Princess Mononoke and Academy Award winner Spirited Away, comes the new Studio Ghibli film Ponyo on the Cliff by the Sea.

Ponyo on the Cliff by the Sea, loosely based on Hans Christian Andersen's The Little Mermaid, is a hand-drawn feature-length film. The art of the film involves not only cel, but also striking watercolor and pastel concept sketches and layout pages. Interviews with productiin principals about their daring choice to hand draw a film in the age of CGI and the screenplay complete the package.
Tracks