NOTICE
Convention Schedule
| | |
| --- | --- |
| July 18-22, 2018 | AAA Anime Inc. will be attending the international San Diego Comic Con Booth# 4319. |
Master Keaton Vol. 12 (Manga) (Books)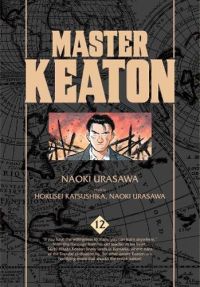 Manufacturer: Viz
Item Code: 1421583801
UPC: 9781421583808
Author: Naoki Urasawa
S.R.P.: $19.99
Request this item from your local retailer!

Taichi Hiraga Keaton, the son of a Japanese zoologist and an English noblewoman, is an insurance investigator known for his successful and unorthodox methods of investigation. Educated in archaeology and a former member of the SAS, Master Keaton uses his knowledge and combat training to uncover buried secrets, thwart would-be villains, and pursue the truth...

"If you have the willingness to learn, you can learn anywhere." With this message from his old teacher in his heart, Taichi Hiraga Keaton finally lands in Romania, where ruins of the Danube civilization lie. Yet, what awaits Keaton is a major horrifying event that shocks the entire nation!