NOTICE
Holiday Schedule
| | |
| --- | --- |
| July 4, 2018 | AAA Anime Inc. will be CLOSED on Wednesday in observance of Independence Day. |
Honey So Sweet Vol. 7 (Manga) (Books)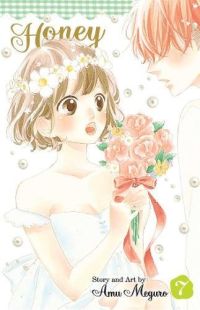 Manufacturer: Viz
Item Code: 1421591235
UPC: 9781421591230
Author: Amu Meguro
S.R.P.: $9.99
Request this item from your local retailer!

A charming high school romance between a tender hooligan and an orphaned girl.
Little did Nao Kogure realize back in middle school that when she left an umbrella and a box of bandages in the rain for injured delinquent Taiga Onise she would meet him again in high school. Nao wants nothing to do with the gruff and frightening Taiga, but he suddenly presents her with a huge bouquet of flowers and asks her to date him--with marriage in mind! Is Taiga really so scary, or is he a sweetheart in disguise?

Taiga becomes a mentor to new student Miyabi Nishigaki. Miyabi develops a crush on Taiga and pursues him, which leads Nao to confide her feelings of jealousy to Futami.