NOTICE
Holiday Schedule
| | |
| --- | --- |
| Nov. 22, 2018 | AAA Anime Inc. will be CLOSED on Thursday in observance of Thanksgiving. |
| Dec. 24, 2018 | AAA Anime Inc. will be CLOSED on Monday for Christmas Eve. |
| Dec. 25, 2018 | AAA Anime Inc. will be CLOSED on Tuesday in observance of Christmas. |
| Jan. 1, 2019 | AAA Anime Inc. will be CLOSED on Tuesday in observance of New Years Day. |
| Dec. 31, 2018 | AAA Anime Inc. will be open for a half day. No outbound shipments are scheduled that day. |
| UPS Holiday Schedule Notes | UPS Guarantee is suspended for all UPS Ground shipments picked up or scheduled for delivery Nov. 26–Dec. 24. |
Magi The Labyrinth of Magic Vol. 27 (Manga) (Books)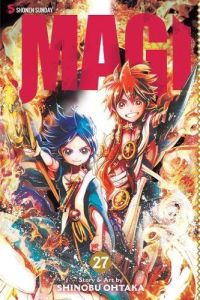 Manufacturer: Viz
Item Code: 1421595095
UPC: 9781421595092
Author: Shinobu Ohtaka
S.R.P.: $9.99
Request this item from your local retailer!

Deep within the desert lie the mysterious Dungeons, vast stores of riches there for the taking by anyone lucky enough to find them and brave enough to venture into the depths from where few have ever returned. Plucky young adventurer Aladdin means to find the Dungeons and their riches, but Aladdin may be just as mysterious as the treasures he seeks.

After Hakuryu forces him into a corner in an intense fight, Alibaba grievously wounds his old friend. But Alibaba's victory over the Fallen Hakuryu has come at a terrible cost to Alibaba's soul. Now Aladdin must take on the equally unhinged Judar in a sorcerous battle beyond any he has fought before!