NOTICE
Holiday Schedule
| | |
| --- | --- |
| Nov. 22, 2018 | AAA Anime Inc. will be CLOSED on Thursday in observance of Thanksgiving. |
| Dec. 24, 2018 | AAA Anime Inc. will be CLOSED on Monday for Christmas Eve. |
| Dec. 25, 2018 | AAA Anime Inc. will be CLOSED on Tuesday in observance of Christmas. |
| Jan. 1, 2019 | AAA Anime Inc. will be CLOSED on Tuesday in observance of New Years Day. |
| Dec. 31, 2018 | AAA Anime Inc. will be open for a half day. No outbound shipments are scheduled that day. |
| UPS Holiday Schedule Notes | UPS Guarantee is suspended for all UPS Ground shipments picked up or scheduled for delivery Nov. 26–Dec. 24. |
RWBY Vol. 1 (Manga) (Books)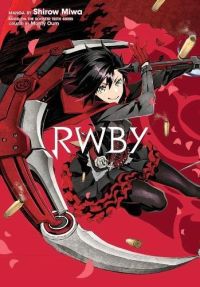 Manufacturer: Viz
Item Code: 1421595125
UPC: 9781421595122
Author: Shirow Miwa
S.R.P.: $14.99
Request this item from your local retailer!

Once, humans and beasts coexisted peacefully in the magical world of Remnant. Now they are at fierce odds. Ruby Rose, Yang Xiao Long, Blake Belladonna and Weiss Schnee are Team RWBY, classmates at Beacon Academy, learning the deadly craft of hunting the monstrous species known as the Grimm.

The dangerous World of Remnant balances two extreme coexisting forces; science and magic. Humanity, born from Dust, has been under constant threat from monsters called Grimm since its creation. Pushed to the brink of extinction, humans succeeded in driving away the Grimm using the crystalline Dust which controls the power of nature. However, the threat of a Grimm resurgence remains. Ruby, a young girl, yearns to be a Huntress, a guardian of the humans against the Grimm.