Seraph of the End Vol. 13 (Manga) (Books)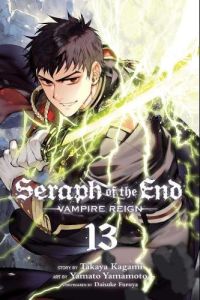 Manufacturer: Viz
Item Code: 1421596512
UPC: 9781421596518
Author: Takaya Kagami
S.R.P.: $9.99
Request this item from your local retailer!

After trumpets of the apocalypse proclaim the fall of humanity, vampires arise from the shadows to rule the earth. Yuichiro wants just one thing--to get revenge by killing each and every vampire.

Ferid has successfully coerced Shinoa Squad and Mika into joining him and Crowley on a field trip to Osaka. According to Ferid, the purpose of the trip is to see the truth behind the calamity that ended the word--ground zero of the apocalypse. But not all is as it seems, as vampire nobles from across the world are also converging on Osaka!