NOTICE
May 27, 2019
AAA Anime Inc. will be CLOSED on Monder in observance of Memorial Day.
July 4, 2019
AAA Anime Inc. will be CLOSED on Thursday for Fourth of July.
Takumi-kun Series Vol. 1: June Pride (Manga) (Books)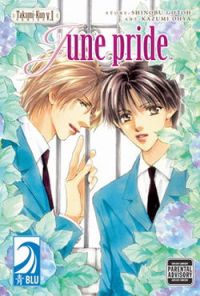 Manufacturer: Blu
Item Code: 1427802807
UPC: 9781427802804
Author: Kazumi Ohya, Shinobu Goto
S.R.P.: $9.99
Request this item from your local retailer!

Far away from the city, deep within the mountains, sits the all-boys high school, Shidou Academy. In years past, this school housed only the sons of the most elite families in the country, but these days it welcomes all into its historic halls. Takumi, a boy from humble origins, prepares to begin his second year at the school. Held back by psychological issues, Takumi's indifferent attitude has garnered him no friends and the reputation as a cold fish. Then along comes Gui, a wealthy and charismatic student born in America. Gui is the only person who doesn't see Takumi as odd, and the two become friends. But how will the two cope when Gui confesses his love to Takumi? And can the couple survive the revelation of the secret behind the psychological problems that plague Takumi?
Tracks