NOTICE
Holiday Schedule
| | |
| --- | --- |
| July 4, 2018 | AAA Anime Inc. will be CLOSED on Wednesday in observance of Independence Day. |
Evangelion: Shinji Ikari Raising Project Omnibus Vol. 4 (Manga) (Books)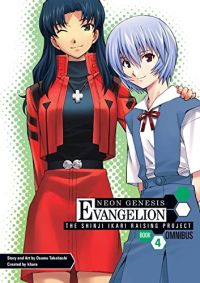 Manufacturer: Dark Horse
Item Code: 1506701817
UPC: 9781506701813
S.R.P.: $19.99
Request this item from your local retailer!

Don't say "crazy"! The campus culture festival is coming up for the students of Class 2-A, and in manga that means not only cosplay, but starting an all-girl band! But what are they supposed to do about the fact that the keyboardist, Shinji, isn't, um, a girl? Well, that's when it's time for a little crossplay!