NOTICE
Holiday Notice
| | |
| --- | --- |
| May 25th, 2015 | AAA Anime Inc. will be CLOSED on Monday in observance of Memorial Day. |
Fushigi Yugi Vol. 1: Priestess (2nd Edition) (Manga) (Books)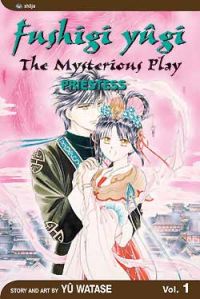 Manufacturer: Viz
Item Code: 156931957X
UPC: 9781569319574
Author: Y? Watase
S.R.P.: $9.95
Request this item from your local retailer!

The discovery of a mysterious book transports ordinary high-school girl Miaka and her best friend Yui into a strange new world reminiscent of ancient China. They set out to find and befriend seven Celestial Warriors, including dashing mercenary Tamahome and wannabe empress Nuriko. Only then can Miaka summon the power of the god Suzaku, find her true love, and get home safely.
FUSHIGI YUGI © 1992 Yuu Watase/Shogakukan, Inc.
Tracks