Fushigi Yugi Vol. 3: Disciple (2nd edition) (Manga) (Books)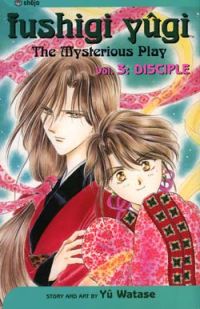 Manufacturer: Viz
Item Code: 1569319928
UPC: 9781569319925
Author: Yu Watase
S.R.P.: $9.95
Request this item from your local retailer!

Miaka Yuki is an ordinary junior high student who is suddenly transported into the world of a book, The Universe of the Four Gods. Surrounded by enemies with mystic power, she can only rely on her Celestial Warriors and a mysterious monk, a disciple of the oracle, to help her fulfill her quest! Miaka's best friend, Yui, also enters the book, but suffers a fate much crueler than Miaka's.
FUSHIGI YUGI © 1992 Yuu Watase/Shogakukan, Inc.
Tracks