NOTICE
Holiday Schedule
| | |
| --- | --- |
| May. 28, 2018 | AAA Anime Inc. will be CLOSED on Monday in observance of Memorial Day. |
Fushigi Yugi Vol. 9: Lover (Manga) (Books)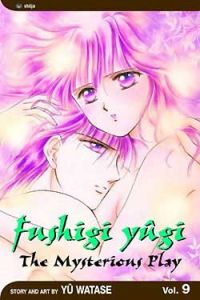 Manufacturer: Viz
Item Code: 1591160960
UPC: 9781591160960
Genre: Shoujo
Author: Yu Watase
S.R.P.: $9.95
Request this item from your local retailer!

A much-loved member of the Celestial Warriors of Suzaku has given his life for the sake of a treasure left behind by the god of the North. The Shentso-Pao is one of the keys to summoning the god Suzaku and having Miaka's most cherished wishes granted. Even if she passes the trials and obtains the treasure, can she hold onto it with the murderous Warriors of Seiryu close on her heels?
FUSHIGI YUGI © 1992 Yuu Watase/Shogakukan, Inc.
Tracks