NOTICE
Holiday Schedule
| | |
| --- | --- |
| Nov. 26, 2015 | AAA Anime Inc. will be CLOSED on Thursday in observance of Thanksgiving Day. |
| Dec. 24, 2015 | AAA Anime Inc. will be open for a half day. No outbound shipment are scheduled that day. |
| Dec. 25, 2015 | AAA Anime Inc. will be CLOSED on Friday in observance of Christmas. |
| Dec. 31, 2015 | AAA Anime Inc. will be open for a half day. No outbound shipments are scheduled that day. |
| Jan. 1, 2016 | AAA Anime Inc. will be CLOSED on Friday in observance of Christmas. |
| UPS Holiday Schedule Notes | The UPS Service Guarantee is suspended for UPS Ground and UPS Standard Packages scheduled for delivery between December 11-24 |
Fushigi Yugi Vol. 6: Summoner (2nd Edition) (Manga) (Books)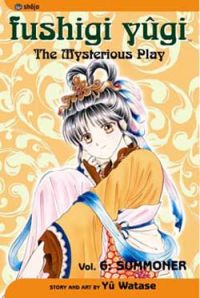 Manufacturer: Viz
Item Code: 1591160987
UPC: 9781591160984
Author: Y? Watase
S.R.P.: $9.95
Request this item from your local retailer!

Carefree junior-high-school coed Miaka, together with her more serious best friend Yui, finds a book entitled The Universe of the Four Gods. Far from being just a dusty old tome, the book is magic and it transports them both into its story! Trapped in a parallel world strangely like ancient China, Miaka is at a loss until she is identified as a prophesied priestess of the god Suzaku, come from another world. But the journey has just begun, for now she must find and befriend seven Celestial Warriors to summon the power of Suzaku, fulfill her wish and find her true love!
Now that she seems to have gathered all seven of her Celestial Warriors, Miaka is ready to summon the god Suzaku who will grant her three wishes. But Miaka's former best friend Yui has become her mortal enemy, and Yui's nefarious general Nakago has a secret plan...
FUSHIGI YUGI © 1992 Yuu Watase/Shogakukan, Inc.
Tracks